Well, in my quest for better eating and cleaner foods…. I made a chicken dish that my friend Faye would love the recipe for —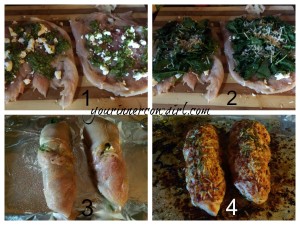 How the recipe came about was… I had started experimenting on a new chicken dinner for the ranch clinic as most folks love my "Mediterranean" chicken … but this year I need to spice it up… as we are 15 years of ranch clinics now!! I need simple, quick, more healthy and feed around 30 folks… hmmm…. so "Chicken Alvie" was born… flattening it out makes cooking quicker… it's all fresh simple ingredient and I can put them all in one pan to fit on the BBQ! (I think)… The cauliflower is simple and for the ranch clinic might get tossed in ranch dressing and made more like a casserole than roasted… just depends on my thoughts the day I cook it! And because folks go through a buffet style at the clinic, they can add salad instead of a bed of spinach… Now onto the non measured, adventurous recipe!
"Chicken Alvie"…. I pounded two chicken breasts till fairly flat and warmed about 4 big handfuls of baby kale in a frying pan… not wilting them just warming it so its softer and a bit more compact (easier to work with). Next, I took some store bought Basil Pesto and spread it over chicken along with goat cheese… once spread out, I took the baby kale and spread it over chicken and rolled! Baked it in a 350 oven for about 30 minutes and basted it with the juices that had leaked out and sprinkled smoked paprika, garlic powder, salt and pepper along with fresh grated parmesan cheese and back in the oven for a few minutes to melt cheese. I took it out and wrapped it in tin foil to rest for a bit while I upped the oven to 425 and sliced the cauliflower some end pieces fall apart but you get a few "slabs" of cauliflower as well…. drizzle good olive oil and salt/pepper over cauliflower and put in oven on a cookie sheet be sure there are no piles…. Watch and flip when edges of cauliflower are browning, drizzle with your oil and spices and cook in total probably 15 -20 minutes depending on amount of vegetable. Now while that was cooking I took a cup of fresh raspberry's and mashed them a potato masher, added about a 1/4 cup of balsamic vinegar and 1//4 of raw honey. a pinch of salt and garlic and bring to a boil(gentle boil and not for long)… if it seems really runny add just a pinch of cornstarch and stir in….
Lastly, the "build" on the plate… I put a small bed of fresh spinach and kale, my slab of cauliflower, and took a chicken breast sliced it and placed it on top with a drizzle of the sauce. If you are watching your weight serve just half of the chicken per person and all those veggies! Live alone? freeze your chicken after it's cooked for a later dinner…. OR… you have 4 dinners for the week!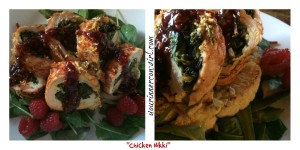 It's simple and I don't really time things… the times I posted above are guesses… As I smell it, I check it! lol — You could also use raspberry jam or peach or apricot jam…. and you could stuff it with swiss cheese, fresh basil, and spinach… Perhaps you want more protein… roll with sharp cheddar and ham… It's really what you want and don't be particular about measuring — it's all good for you… now that doesn't mean a block of goat cheese and buried in parmesan cheese!
I hope you all will try your own version of this and let me know!…. Keys don't over cook your chicken… keep track and be sure you wrap it up to keep the juices in…. not too much oil on your cauliflower or it becomes droopy and mushy… don't like kale? try baby kale, it's much more mellow and not so bitter. Arugula would make an awesome bed to set your dinner on as well!
Keep up with the 2015 eat cleaner party!!!!!